Laundry sucks, but your laundry room doesn't have to!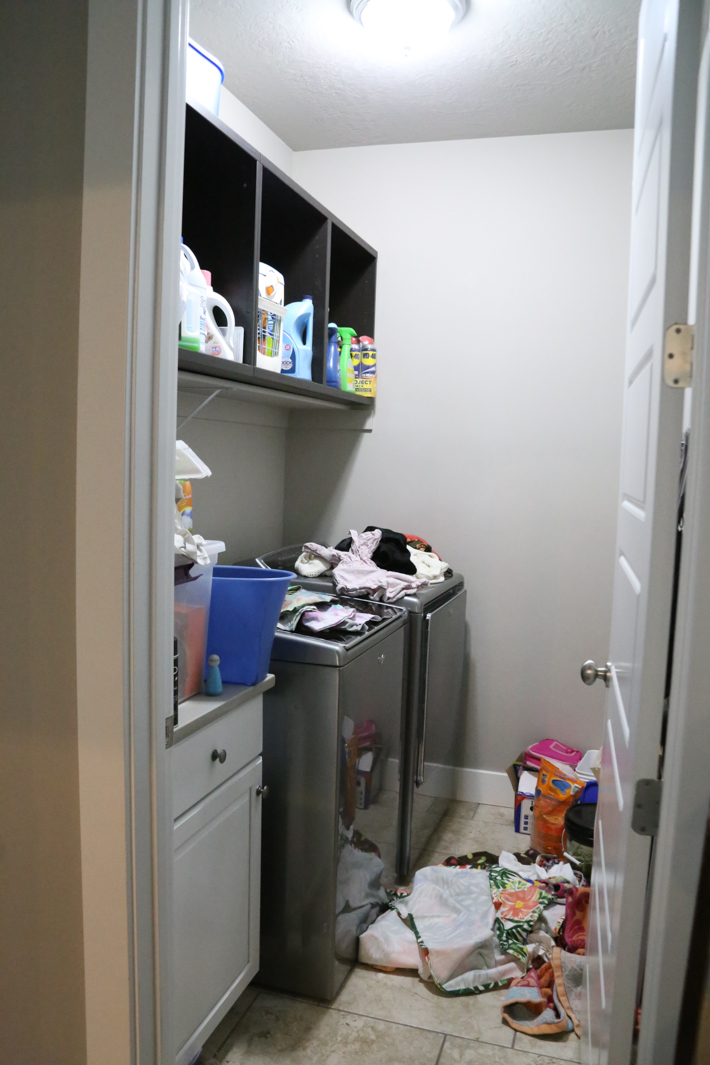 Mine was sucking pretty hard. It was small and BLAH! I was pretty much dreading going in there…. So I decided I better jazz it up!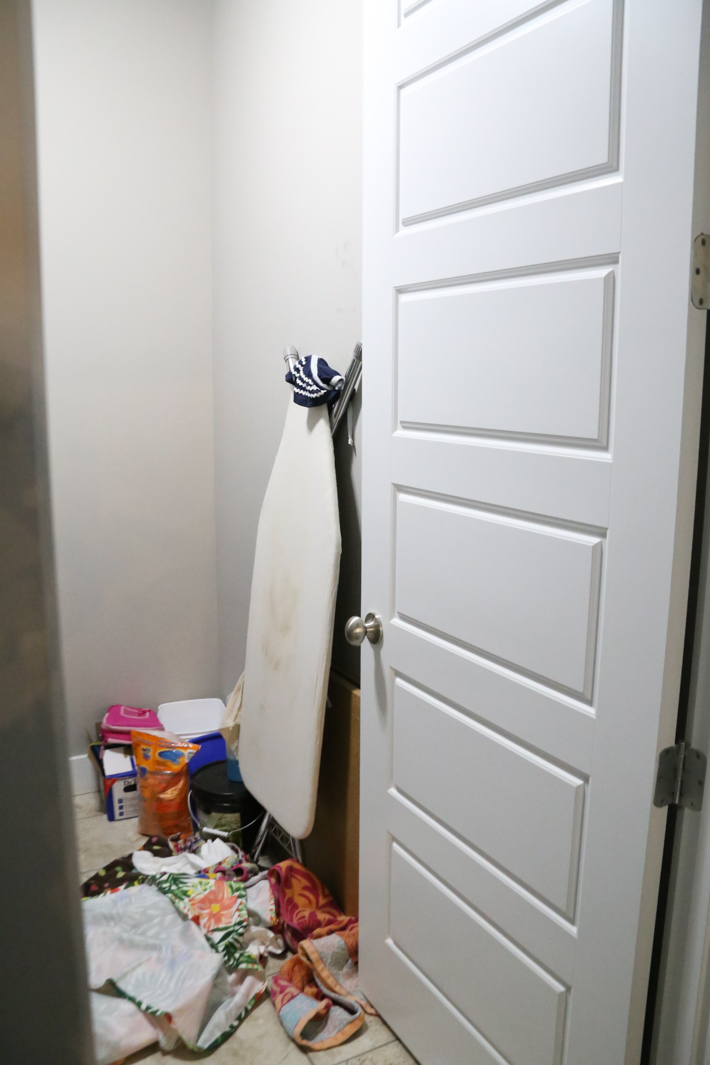 I didn't want to spend a lot of money doing it though. This is not a room anyone else is going to be spending time hanging out in….haha! I mean I barely fit with a laundry basket and baby on my hip!! Home builders really need to make laundry rooms more awesome AND by awesome I mean large. HA!
I wanted to add wallpaper, but I decided it wasn't worth the cost for this small space. But, shiplap! I felt this was a good place for shiplap! And it made me happy…so that's always important. I could paint a fun design on the walls in place of wall paper and use that money toward the shiplap. Shiplap at Home Depot is about $5 for an eight foot long board.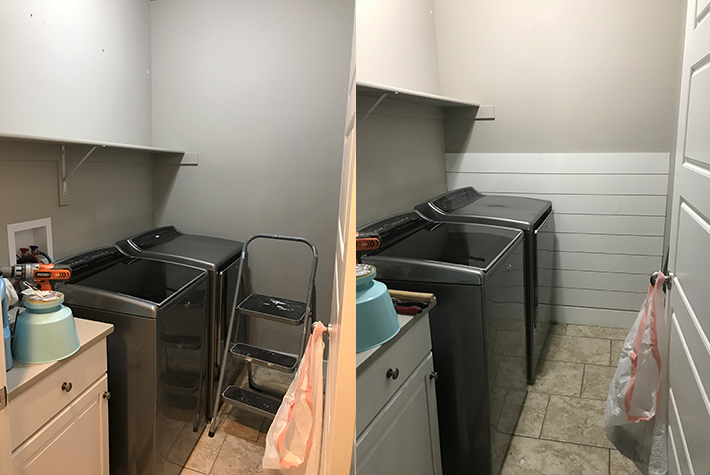 After playing around with different patterns and colors I decided to go with a leopard spot pattern and dark grey color. Leopard print is easy to paint because there is no right or wrong, it doesn't have to be even or perfectly placed by any means. I went to town!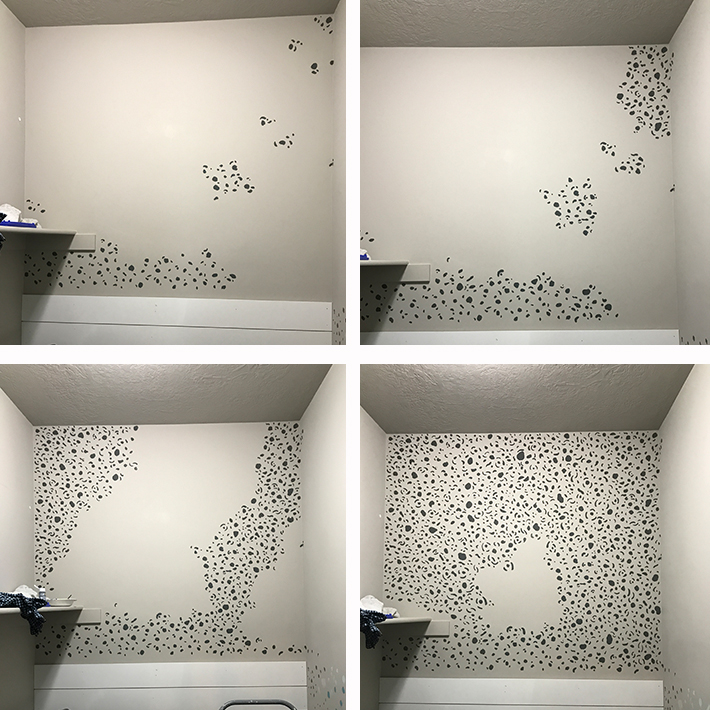 Between all my mom duties and this I probably took about a month to actually complete painting the spots on the wall. I was actually kind of relaxing. I enjoyed it!! I'd go in and paint any chance I got, even after church with a baby on my hip. She lives on my hip. I am obsessed with little Jane! My sweet baby doll.
I finished up the shiplap on both walls and added a piece of faux reclaimed wood from Home Depot to top it off.
The floating shelves I built from 2×4's were pretty easy to make. I did have to have help hanging them on the wall, but as for building them- measure twice, cut once! I found a tutorial from Shanty 2 Chic's site.  I looked over their tutorial and tailored the plans to the needs in my space. You can find that tutorial HERE.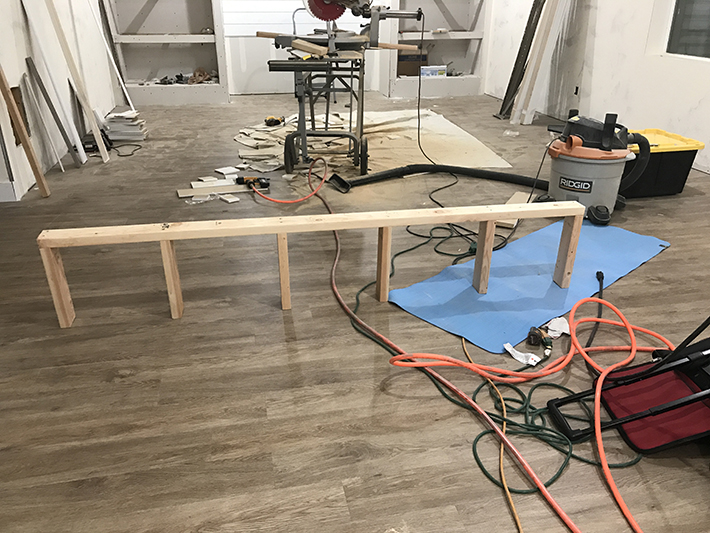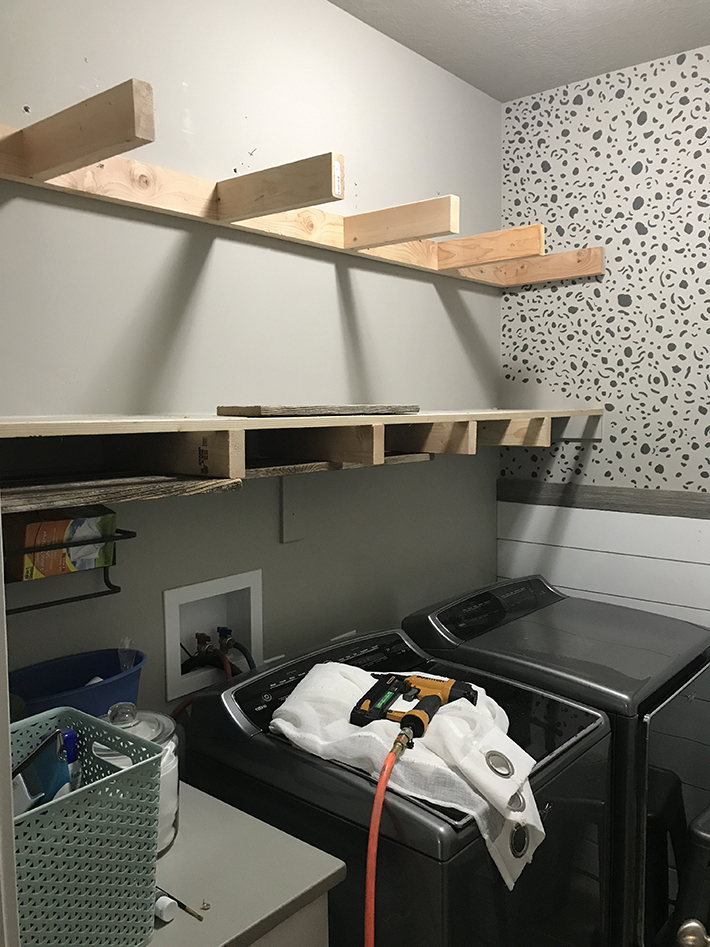 The shelves were wrapped in reclaimed fence wood after they were installed on the wall. I love using reclaimed fence wood for projects. It is usually FREE and normally has an even thickness from piece to piece. I love the way the shelves turned out in here. And, these bad boys are SOLID!!
After the walls were painted and the shelves were done I got to decorating!! I have been hoarding plates for years and didn't know where to put them. I felt like this was a good use of my plates and letter board from Letter Folk. Some of my plates are thrifted, but most are from Anthropologie. I just got two more at Christmas that I am excited to add to this wall. YAY! I plan to just keep adding to the wall as my little heart desires.  I like to use invisible adhesive plate hangers to display my plates on the wall. You might have seen me talk about them on my Stories on Instagram a few weeks ago. They are easy to use and adhere to the plates really well.
You can find the plate hangers I use by clicking HERE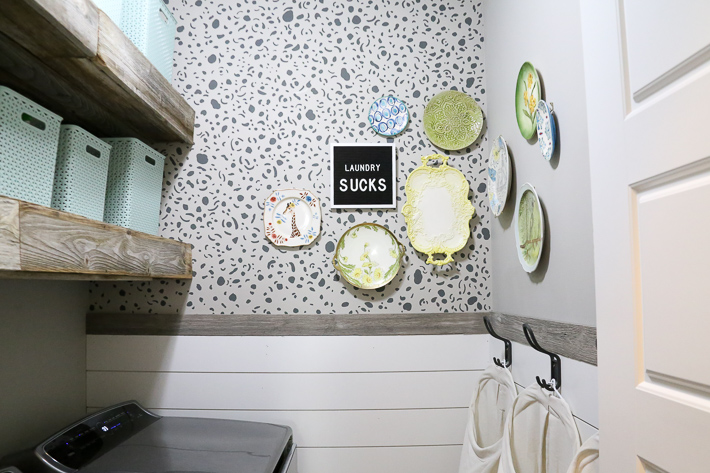 The canvas hanging laundry bags are from Amazon. You can find the ones I bought by clicking HERE
. I love these bags. They definitely help keep laundry off the floor!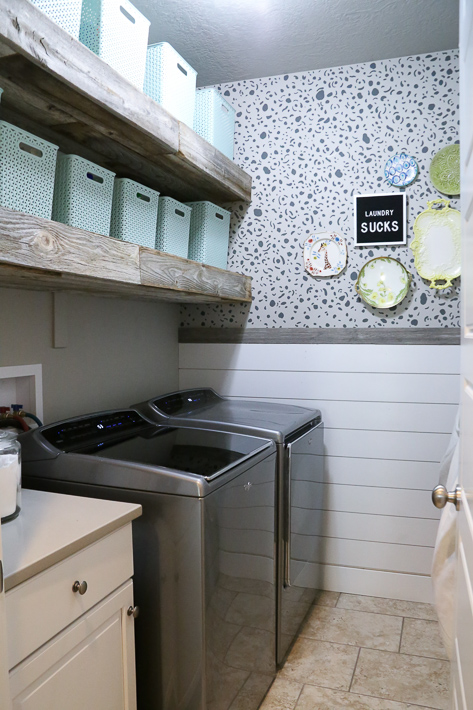 The sea foam colored baskets are from Target. I feel so organized since I got these. There was junk that was floating around my house that finally has a home! My new motto is "Everything has a place and every is in it's place…OR IT'S GONE!"

You can find the baskets HERE.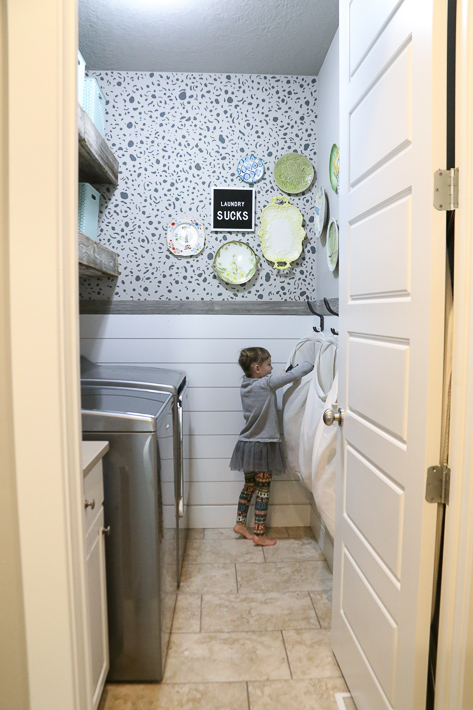 Now to keep it this clean! hehehe…we'll see about that…..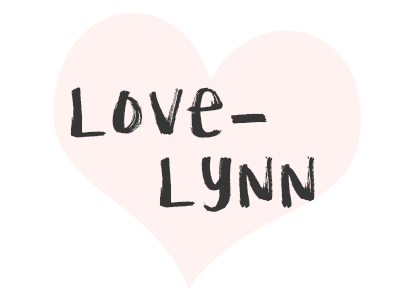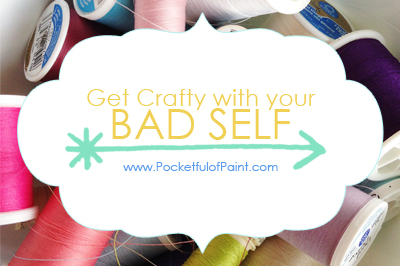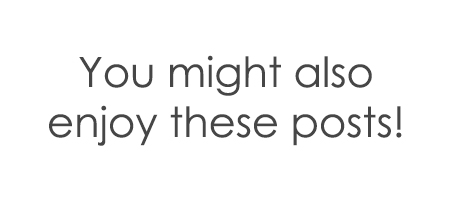 Free organization labels and laundry room printables from Shambray's Blog.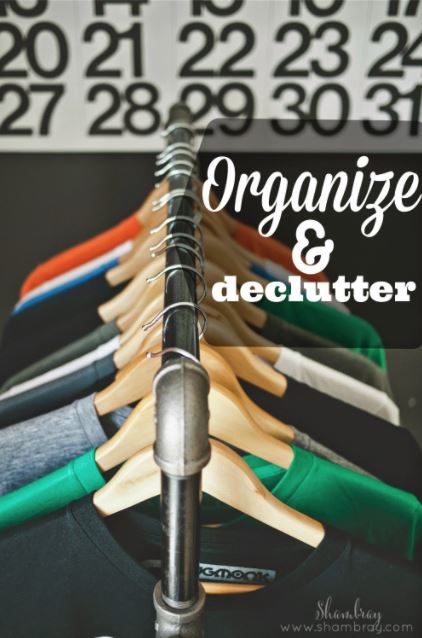 Get the kids doing laundry with these prints from The Happy Scraps Blog.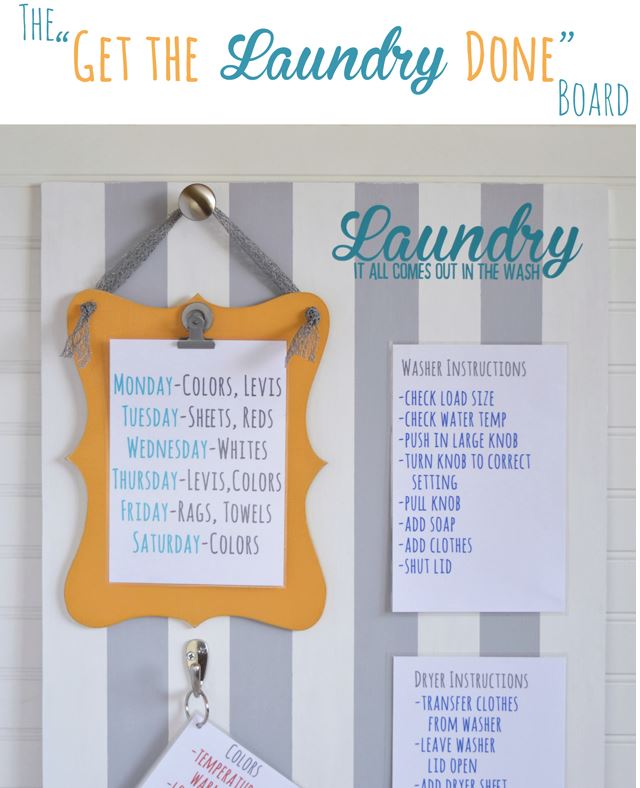 Or build an easy DIY drop down laundry table
with the ladies from Housewives of Riverton.