This is the first of all the rooms in our newly finished basement that I am sharing about. It is actually the first room to actually be done DONE- furnished and decorated.
But, THIS is how they all start. Cement floors, HVAC, stud walls, electrical, plumbing, and insulation. Then after all those decisions, drywall, which completely transforms the spaces over night.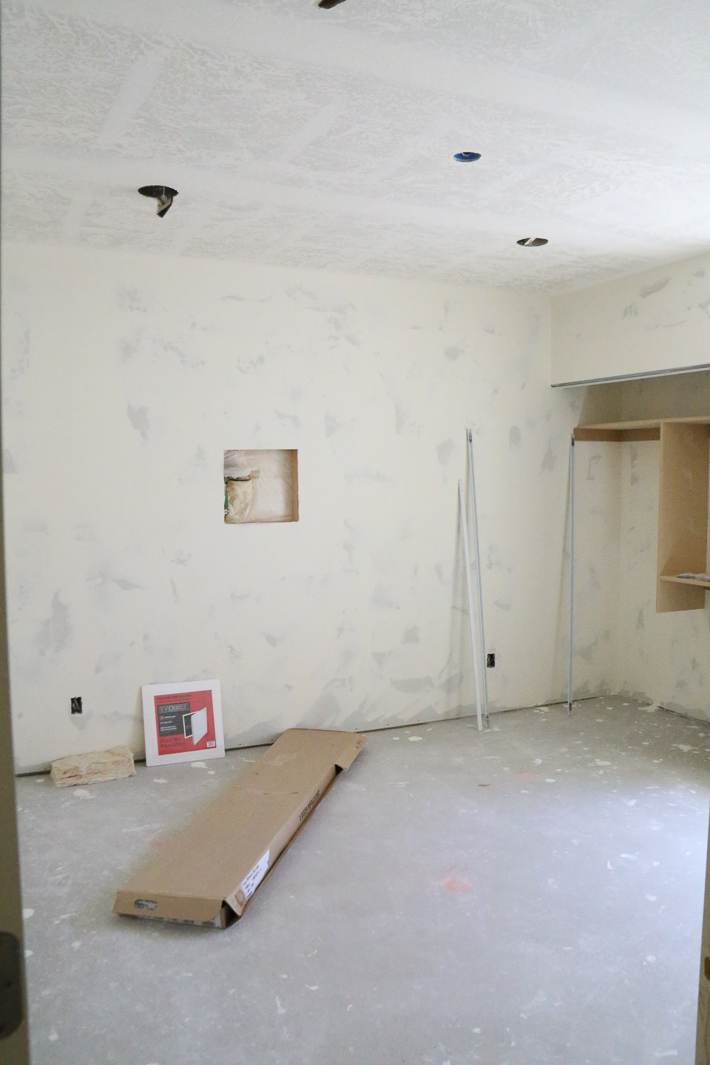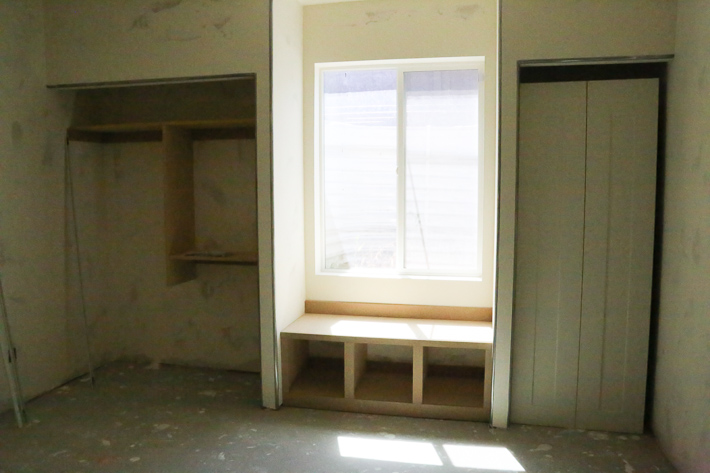 It was kind of a trip to watch it finally become a "room" AND it was exciting!! After paint, finish work, and flooring you have a space ready to make "home."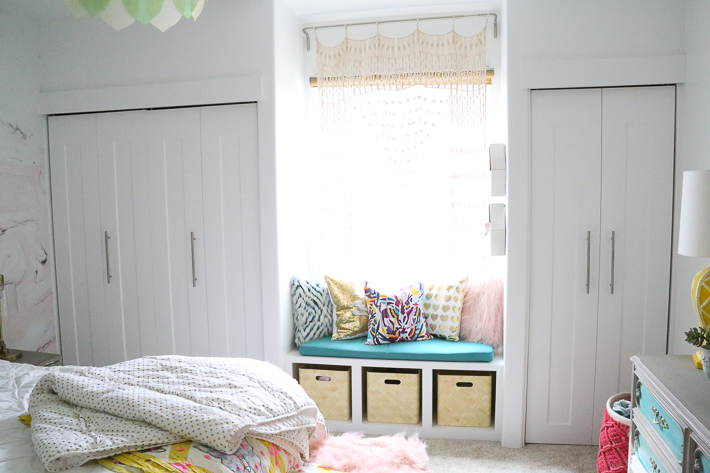 The floor plan that came with our home had the closet on the opposite side of the room. It would have jetted out right as you walk into the room. By moving it across the room next to the window, it felt as if the room opened up more. I had the framer add another small closet on the other side of the window so that we could have a space for a window seat in the middle. I will share my inspirations for this room another day, but I had seen a pictures similar to this idea…and I fell in love with the idea of a window seat for my little girl.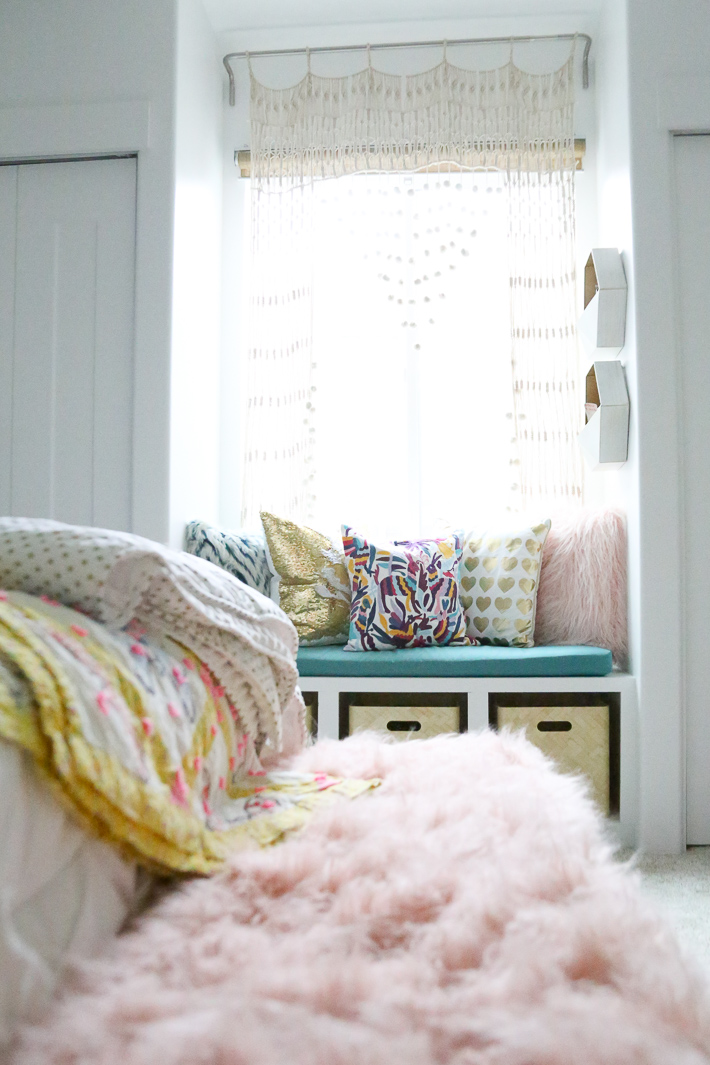 Her curtains are from Urban Outfitters. Click HERE to find them. I let Charlie pick those out. I usually like to pick out everything myself…but I also wanted her to be apart of the design process this time. It is her room after-all! I gave her choices in perimeters that I new would go with the rest of the space.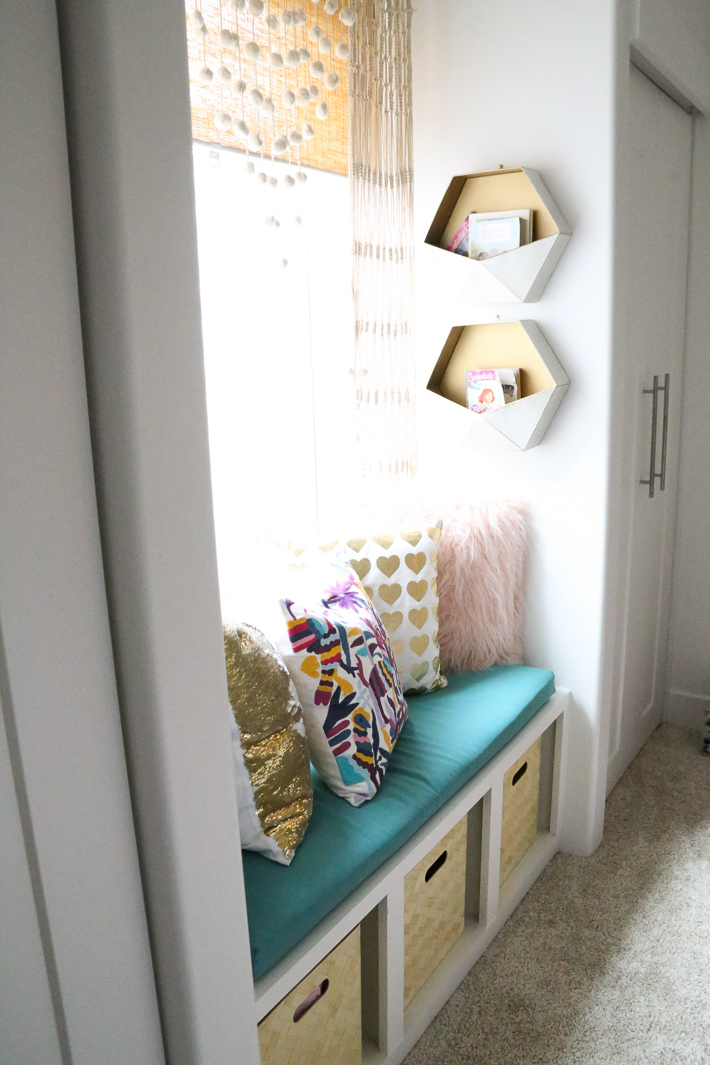 The window seat cushion was from Target, it was in their outdoor bench seat cushions online. Click HERE for those.
The cute wall cubbies are from Hobby Lobby. Pillows are from Pottery Barn Teen, Home Goods, and Target. The baskets and closet hardware are from Ikea.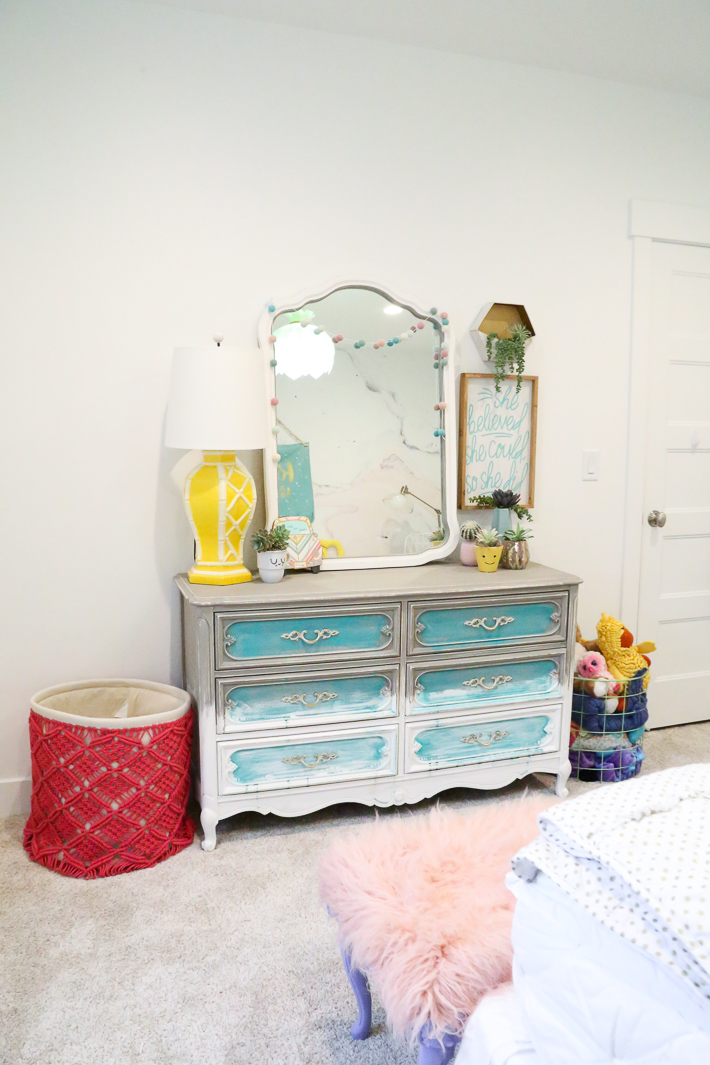 I be sharing a tutorial and the inspiration behind this funky paint job on the dresser soon. The lamp is vintage. Baskets are from Home Goods. Wall art and cubby with succulents are from Hobby Lobby.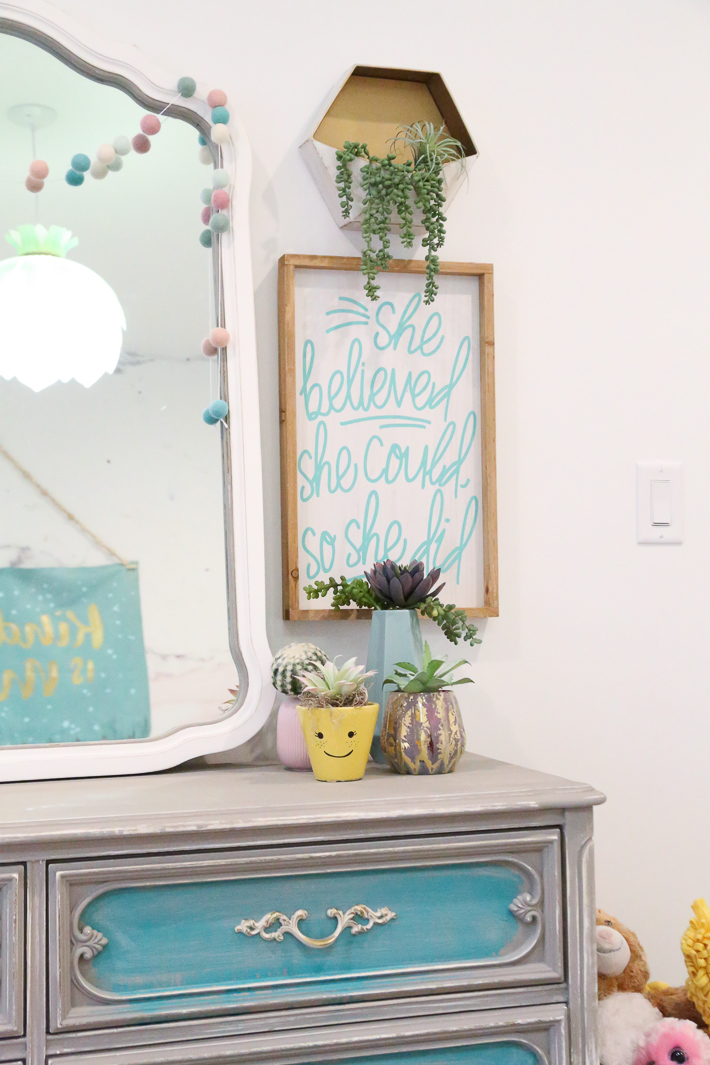 You can find a simple tutorial for the face planters by clicking HERE.  The felt ball garland is from Sheep Farm Felt's shop. Fake succulents is all from Hobby Lobby. Vases are from Hobby Lobby and Ikea.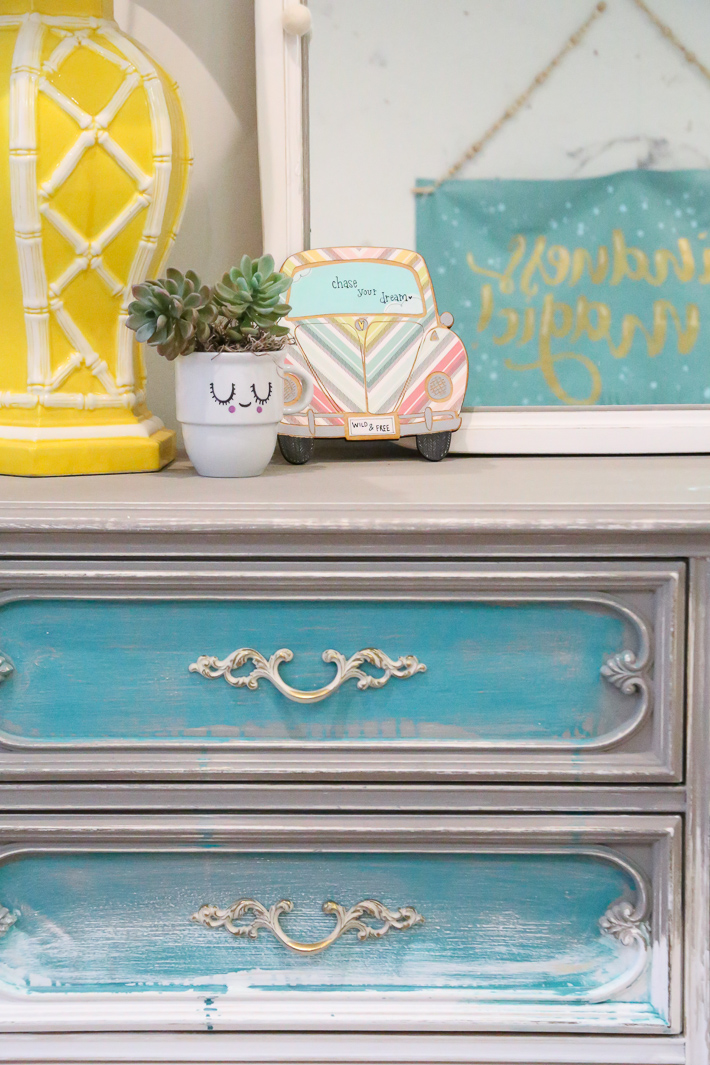 The cute little bug car art is from the lovely HEart by Cc Shop.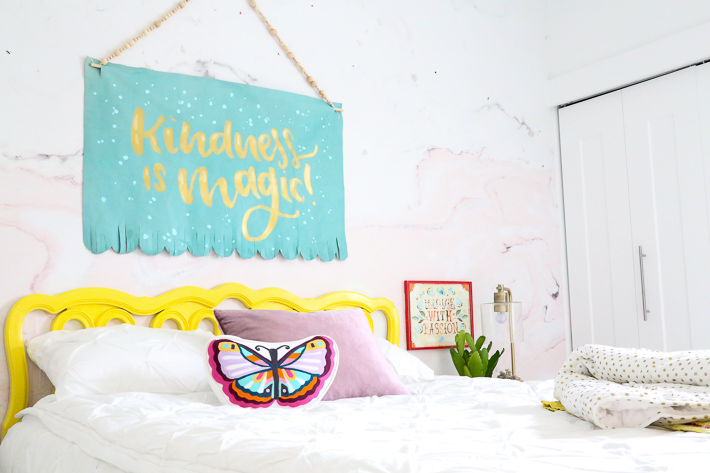 I also be sharing a tutorial on this leather wall hanging soon. The dresser, night stand, and bed frame were all my grandmothers.  I hand painted the dresser and night stand. The headboard is spray painted with Rustoleum spray paint. The light in the center of the ceiling we call the "Tinker Bell lamp" and it was a vintage find. The other lamps in this room are all from Target.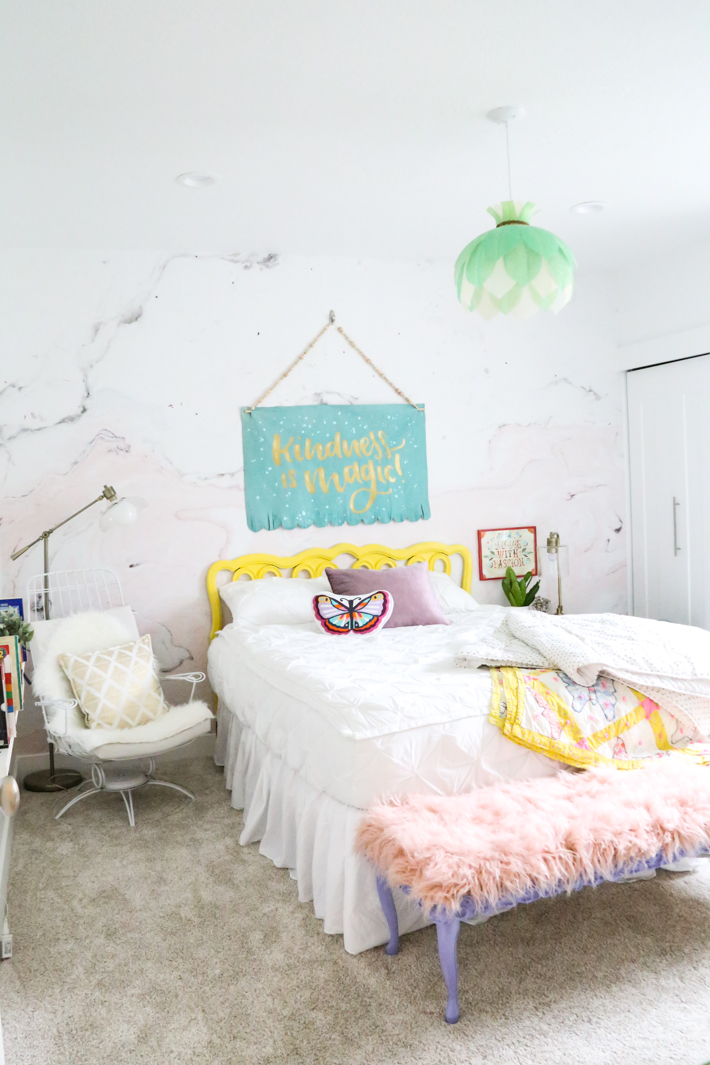 The bedding is of course from my favorite company Beddy's. I just cant go back to normal bedding after having their bed spreads in my home. We have had them for 3 years now for all our children and I love them. Check out my other blog post about them HERE. And find this Simply White Beddy by clicking HERE. I also need to mention the gold polka dot blanket on the end of the bed, this is from Beddy's too. It is fought over haha! Everyone loves it. Beddy's is now making throw blankets and have super soft minky on one side. You can find this HERE.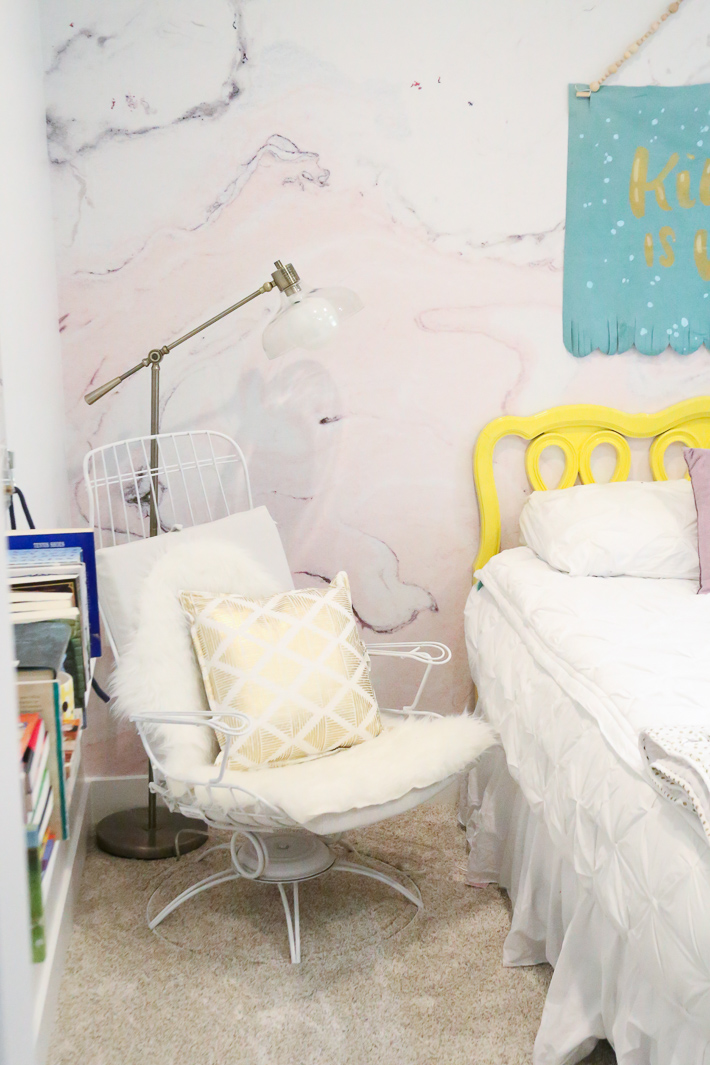 This rad chair was another lucky vintage find. I used another one of Target's outdoor cushions to pad it and a cute faux fur from Ikea.
And can we talk about this wall paper for a moment? I knew I wanted a watercolor type mural on the wall. Walls Need Love– a fun removable wall paper company had a few color options. Charlie picked out this dusty pink marbled one. I LOVE it. It took some figuring out to hang it up, but I love the look. You can find it HERE.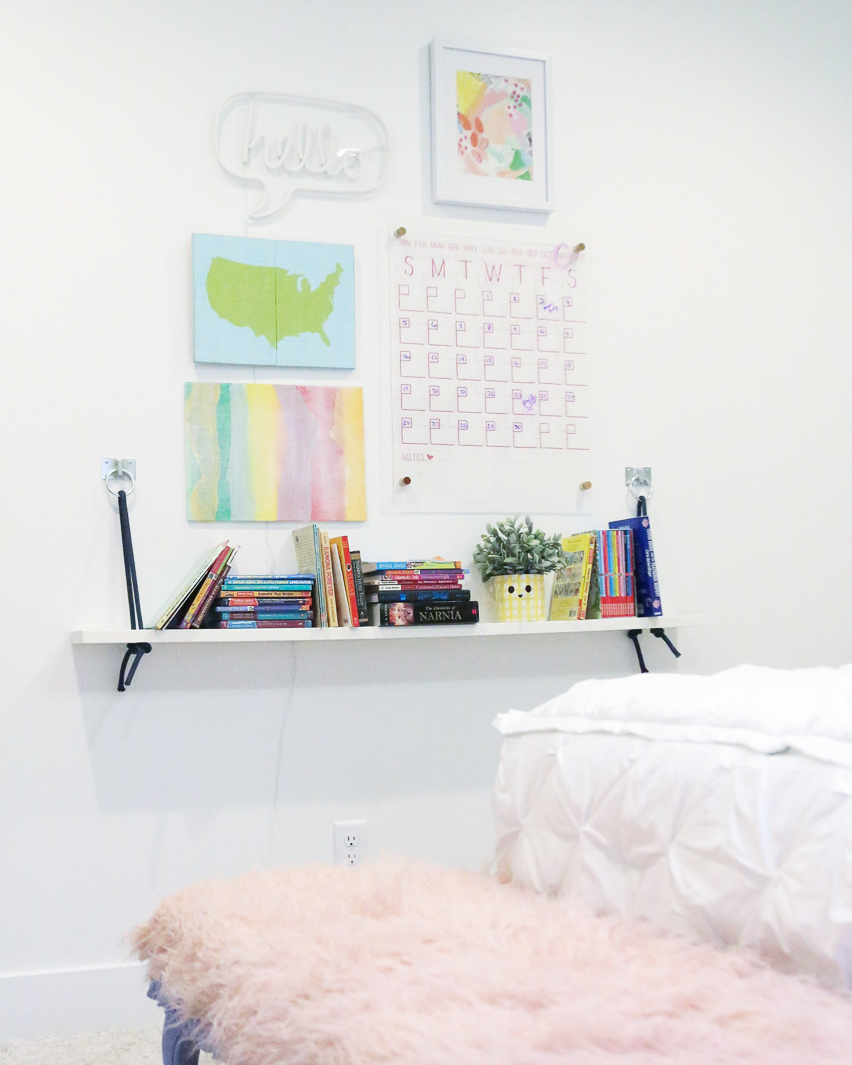 I am excited to write up a tutorial about this little book shelf soon. It was an easy DIY anyone can do and could customize to any space. My daughter practically eats books… so a book shelf was a must somewhere in her room. I seriously can't believe how fast she reads.
The wall art is from all over. Just Add Sunshine shop made the USA silhouette, the light up Hello is from Urban Outfitters, art a friend made for me when I was in high school (so fun to hang this on my daughters wall!), and the framed art and calendar are from Hobby Lobby.
The bench in this room was my husbands grandmother's sisters bench. I recovered the bench in faux fur from JoAnn Fabric's. And one of the sweetest things in this room is the butterfly blanket on the end of the bed. It was made for my mom when she was a little girl. She gave it to me right as I was finishing up Charlie's room. It was the perfect finishing touch.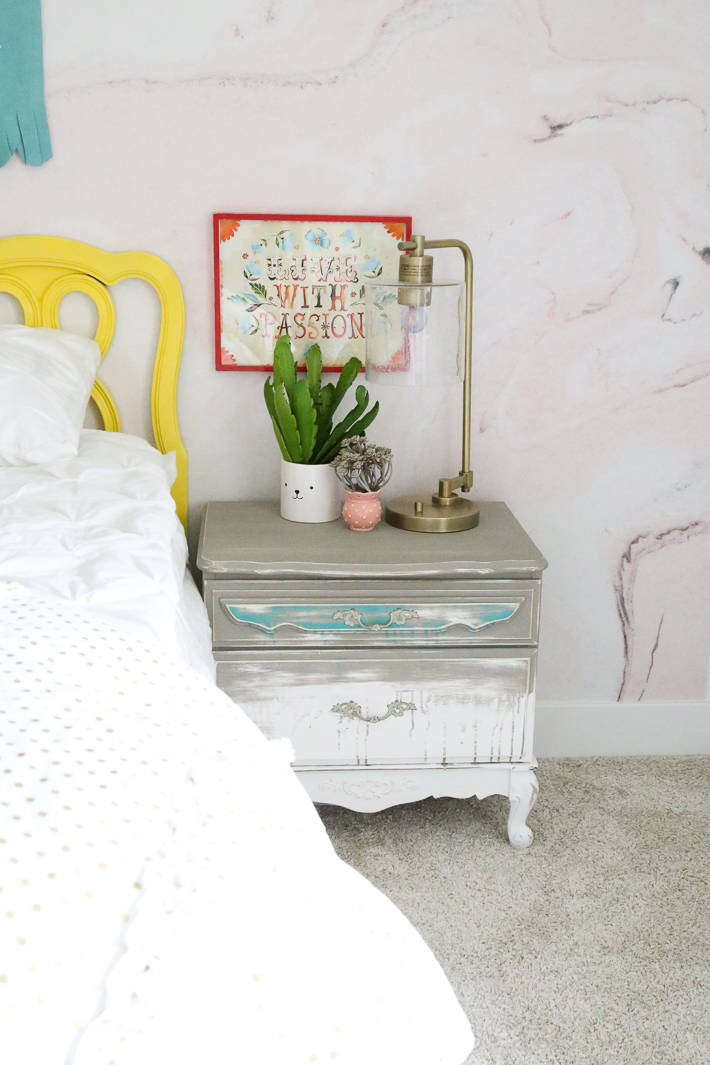 If you have any other questions about this room or the items in it please feel free to leave me a message in the comments below and I will respond as soon as I can.